South-east Michigan Banquet Facility & Wedding Reception
Thank you for inquiring about your event with us.
Alfoccino Restaurant has a full service banquet facility with the capacity to comfortably seat up to a hundred guests at our west side location and up to seventy five at our North Oakland property.
We pride ourselves at making your special event easy and worry free.
Our experienced staff will make your birthday, wedding, office party, bridal/baby shower, graduation, anniversary, Bar Mitzvah, wedding rehearsal, luncheon meeting or holiday party an event to remember.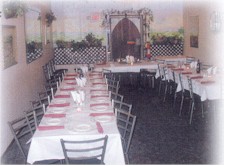 View 1 of private banquet room
Banquet and Catering Menu
(Items and prices subject to change without notice)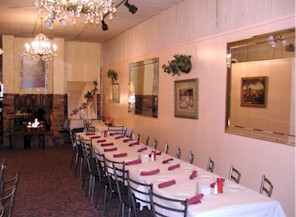 View 2 of private banquet room
Champagne toasts and cake service available. Wine & Beer service available, host or no host. Drink tickets available.
Although we do require a non-refundable deposit to hold your group reservation, there is never an extra charge for the room!
Prices include entree, soft drink, salad and appetizer. Items and prices subject to change without notice.
We are looking forward to serving you. For additional information to book your event with us please call us.
Other Items:
Deposit of $250 (non-refundable) is required to hold reservation.
A final head count must be given 72 hours prior to event along with 50% of remaining balance.
Catering
Alfoccino Restaurant is a full service caterer with over 20 years experience.
Alfoccino is dedicated to providing you with everything necessary to make your special event easy and worry free.
Whether you are hosting a small get together or a wedding for several hundred guests, Alfoccino experienced staff will insure even the smallest of details.
Our goal is for YOU to be a guest at your own party.
(Our catering menu is available in Banquet section, for any other question or reservation call one of our locations).